About Us
Why North Star Auto Electric?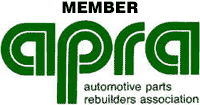 MISSION STATEMENT: Our family and locally owned business has evolved around a belief that our quality and service, when combined, together with USA made and OEM supplied parts, gives the consumer the best possible results.
Family owned
High quality
USA made
Locally built
Locally serviced
North Star Auto Electric specializes in custom rebuilding of starters, alternators, generators, traction motors, lift motors and 6-12-24-48V with related sales and service. We believe by concentrating in the electrical area only, we can be the best at what we do.
North Star Auto Electric offers it's service in more than 7 counties. Concentrating on these surrounding areas means we can service our customers in a prompt and timely manner. Free pick up and delivery is available.
Everyone at North Star Auto Electric is dedicated to providing prompt and professional service to make sure every customer is completely satisfied. Remember, after the sale it's the service that counts. North Star Auto Electric, Inc. is located 17 miles east of Rochester, New York. We service Wayne, Monroe, Ontario, Seneca, Livingston, Orleans and Genesee Counties.
We have 2 sales person's covering these areas to help you with any needs you may have.
We also ship and receive UPS on a daily basis. Please contact us if you need to ship us a unit for servicing and we will give you a shipping control number.
HISTORY:
Established in 1985
Leader in the electrical DC business
Over 50 years combined experience in the electrical business
LOCATION:
105 Main Street in Macedon, NY
Corner of Erie Street and Main Street
500 feet west of Mobil Chemical on the south side of Main Street
Remember after the sale it's the service that counts!
Quality service and competitive pricing is why North Star Auto Electric is #1 in this busines